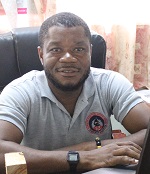 Position: Principal Technologist
Email: This email address is being protected from spambots. You need JavaScript enabled to view it., This email address is being protected from spambots. You need JavaScript enabled to view it.

Tel:+233 247092929
Professional fields of interest:
Biomaterial anatomy and quality,
Bamboo resources development, Wood formation, Non-destructive testing methods – NIR, Acoustics
Professional background
Master of Forestry Science, University of Canterbury, New Zealand
BSc. Nat. Res. Mgt. (Wood Science), KNUST, Ghana
Dip. Nat. Res. Mgt. (Forestry), KNUST, Ghana
Research Project
FORIG/INBAR Bamboo
Wood Forensics
Domestic Timber Market Survey
FORIG/ASUBOA/MIRO Eucalyptus
Identification of Timbers from Volta Lake
Publications
Journal papers
Govina, J. K., Apiolaza, L. A., & Altaner, C. M. (2020). Variation and genetic parameters of axial resin canal features in clones and families of Pinus radiata. New forests, 1-10.
Anglaaere, L. C. N., Djagbletey, G. D., Ofori, D. A., Govina, J. K., Okyere-Agyapong, E., Kwaku, M., Acheampong, N. E. (2020). Manual for bamboo agroforestry systems in Ghana. CSIR-FORIG. Kumasi
Peprah, T., Essien, C., Owusu-Afriyie, K., Foli, E., Govina, J. & A. Oteng-Amoako, A. (2014). Exploring the use of bamboo for accelerated reclamation of degraded mined sites in Ghana. Journal of Bamboo and Rattan. 13. 55-66.

Published abstracts
Oteng-Amoako, A., Darko Obiri, B., …….. Govina, J. K. (2014, September). Sustainable research and development of bamboo resources of Ghana: The past, the present and the future. Book of abstract, First National Forestry Conference, CSIR-Forestry Research Institute of Ghana, Kumasi. P56
Govina, J., Opuni-Frimpong, E., Ebanyenle, E., Darkwa, N., Oteng-Amoako, A. (2014). Variation in fibre dimensions and basic density of plantation grown African mahogany from three forest ecological zones of Ghana. The Book of abstracts, The International Forestry Review. Vol 16(5). The Commonwealth Forestry Association, UK. P389.
Ebanyenle, E., Opuni-Frimpong, E., Govina J. K., Storer, A. J., and Burton A. J., 2010. Effects of shoot borer attack on wood anatomical properties of Africa mahogany. Poster and published abstract, 6th Annual Graduate Research Forum, SFRES, Michigan Technological University, Houghton, MI.
Conference papers:
Govina, J. K., Altaner, C. M. and Apiolaza, L. A. (2018). Variation of resin amount in clones and family of Pinus radiata using NIR. Paper accepted for CSIR-Research Staff Association Annual Conference to be held in October 2018.
Awards/Fellowships Dean's Award:
2015 New Zealand Development Scholarship
Student Poster Award, 2016 Annual Conference by the New Zealand Institute of Forestry
Affiliations
New Zealand Institute of Foresters
Ghana Association for the Conservation of Nature (GACON)
A Rocha Ghana