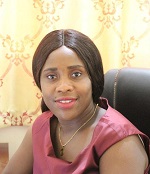 Position: Principal Technologist
Email: This email address is being protected from spambots. You need JavaScript enabled to view it.

Tel:+233 547168381
Professional fields of interest:
Tropical Forest Management, Forest Silviculture and Biodiversity
Conservation in the tropics, Climate Change Mitigation and Adaptation, Urban Forestry, Communication and Conflict Management
Professional background
MSc. Tropical Forestry, Technische Universität Dresden (Dresden University of Technology), Germany – October 2015 to January 2018

BSc. Natural Resources Management (Silviculture and Forest Management Option), Kwame Nkrumah University of Science and Technology, Kumasi- Ghana. August 2006 –May 2010
Research Project
Involved in the Schools' Outreach and Sensitization Programme on Climate Change
Conference paper:
Opoku, P. and Akoto, D.A. (2019). Maximizing landscape restoration to the benefit of smallholder farmers in forest agro-ecological zones in Ghana. Tropentag Conference, Kessel Germany, September 18-20, 2019.
Awards/Fellowships Dean's Award:
2017 - DAAD Completion Grant, Germany
2017 - BPSA-STUBE Sachsen Fellowship Award, Germany
2016 - GET Fund Scholarship Award, Ghana
2015 - ITTO Scholarship Award
2015 - UNEP/UNESCO/BMUP-CIPSEM Fellowship Award, Germany
2009 - Tropenbos Small Grant, Ghana