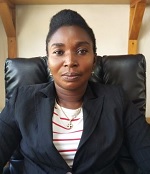 Position: Principal Technologist
Email: This email address is being protected from spambots. You need JavaScript enabled to view it., This email address is being protected from spambots. You need JavaScript enabled to view it.

Tel:+233-552891394
Professional fields of interest:
Forest Product Marketing
Professional background: Bioeconomy and Natural Resource Management
Research Project:
Training in Sustainable Beekeeping, Snail Farming and Mushroom (Domo) Cultivation (Approved, awaiting funding) (2020) - Funding Agency – Skills Development Fund; Donors – DANIDA & GOG.
Assessment of Baseline Indicators of the EU Chainsaw Milling Project in Ghana
Impact Assessment of the EU Chainsaw Milling Project in Ghana
Digitization of Indigenous Knowledge in the Forestry Sector in Ghana
Selected Publication:
Can multi-stakeholder dialogue influence the incidence of illegal forest operations?; Lesson from a case study in Ghana.  
Conference Paper:
Profitability of Cedrela Plantations in the Forest Zones of Ghana (West Africa).